Receptionist Soft Console
Receptionists can handle dozens, even hundreds of calls daily, so it's easy to see how important it is to deploy a phone application that allows for efficient call handling. Receptionist offers a visual display of incoming calls and call status throughout the business on an easy-to-use PC interface. With visual access to everyone's phone status – who's busy, on the phone, away from their desk – receptionists can route calls quickly and accurately with a mouse click.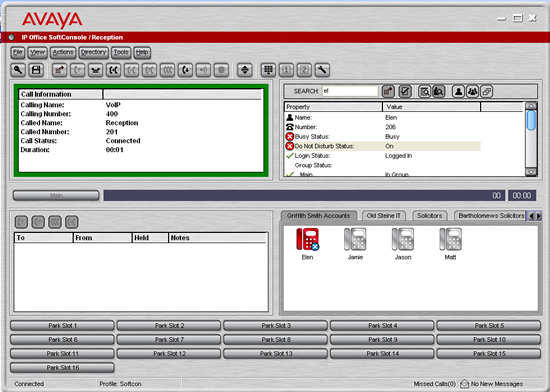 Receptionist is a powerful application that allows a single operator to manage calls for single site offices and even multiple locations to ensure prompt and professional handling of all calls
Fast, accurate call handling – With its intuitive PC interface Receptionist allows for convenient click-and-drag call handling that helps improve the efficiency and effectiveness of the operator, even with large call volumes.
Visual call status – Receptions can see the status and availability of all associates on the network – who's on the phone, away from their desk, not to be disturbed, etc. – helping with speed and accuracy of call routing.
Centralized call management – With Receptionist, a single operator can handle calls for multiple offices – transferring calls between locations, adding people to conferences, managing voicemail messages for associates. The result: streamlined operations, consistency of service and cost savings.
Call handling for multiple businesses – When an operator manages calls for multiple businesses (for example, in a shared office environment), Receptionist enables the operator to quickly and accurately identify callers, greet them appropriately, and route calls to the right business.
Sharing the receptionist resource reduces costs.
Provide professional service to callers – Easy-to-use interface means receptionists can see the status of users on the network to quickly and accurately route calls to the right people.
Self-Administration Web Portal
The IP Office administrator may give select users the ability to change some of the settings themselves.
If enabled the users can access the Web Administration Portal to manage their personal configuration parameters:
Profile
Voicemail
Do Not Disturb and DND Exception List
Mobility
Forwarding
Personal Directory
Button Programming