[vc_row][vc_column][vc_column_text]

Avaya is a recognized innovator leading business communications for the digital age. Avaya delivers smart global solutions and technologies for customer and team engagement, unified communications and collaboration, contact center and customer experience management, and networking. Avaya provides related services to large enterprises, midmarket companies, small businesses, and government organizations around the world.
Avaya Solutions bring people together with the right information at the right time in the right context, helping to enable a higher level of engagement among customers, teams, employees and partners to improve efficiency and quickly address critical business challenges. Designed to be highly scalable, reliable, secure and flexible, these solutions help reduce costs and simplify management while providing a platform for next-generation engagement and collaboration. They are available in a variety of deployment models including public, hybrid and private cloud as well as on a customer's premises. All are supported by Avaya's portfolio of professional and support services.
Avaya is used by:
95% of all Fortune 500 companies
2,750+ hotel sites
450K+ contact center agent positions
8 of the top 10 insurance companies
9 of the top 10 largest banks
The world's top 10 airlines
4,000+ healthcare institutions
5,000+ educational institutions
Government agencies in 42 countries
Over half a million small and midsize companies
Avaya is number one in:
Worldwide Contact Center
Worldwide Unified Messaging
SME Telephony
Worldwide Voice Maintenance/Voice Support Services
Advanced VoIP Solution Overview
IP Office is an integrated, modular communications solution that scales up to 3000 extensions and 150 sites in a multisite network with resiliency.
IP Office provides a hybrid PBX with both Time Division Multiplexing (TDM) and IP telephony with trunk support, used in either mode or both concurrently.
IP Office has data capabilities built-in, providing IP routing, switching and firewall protection, between LAN and WAN.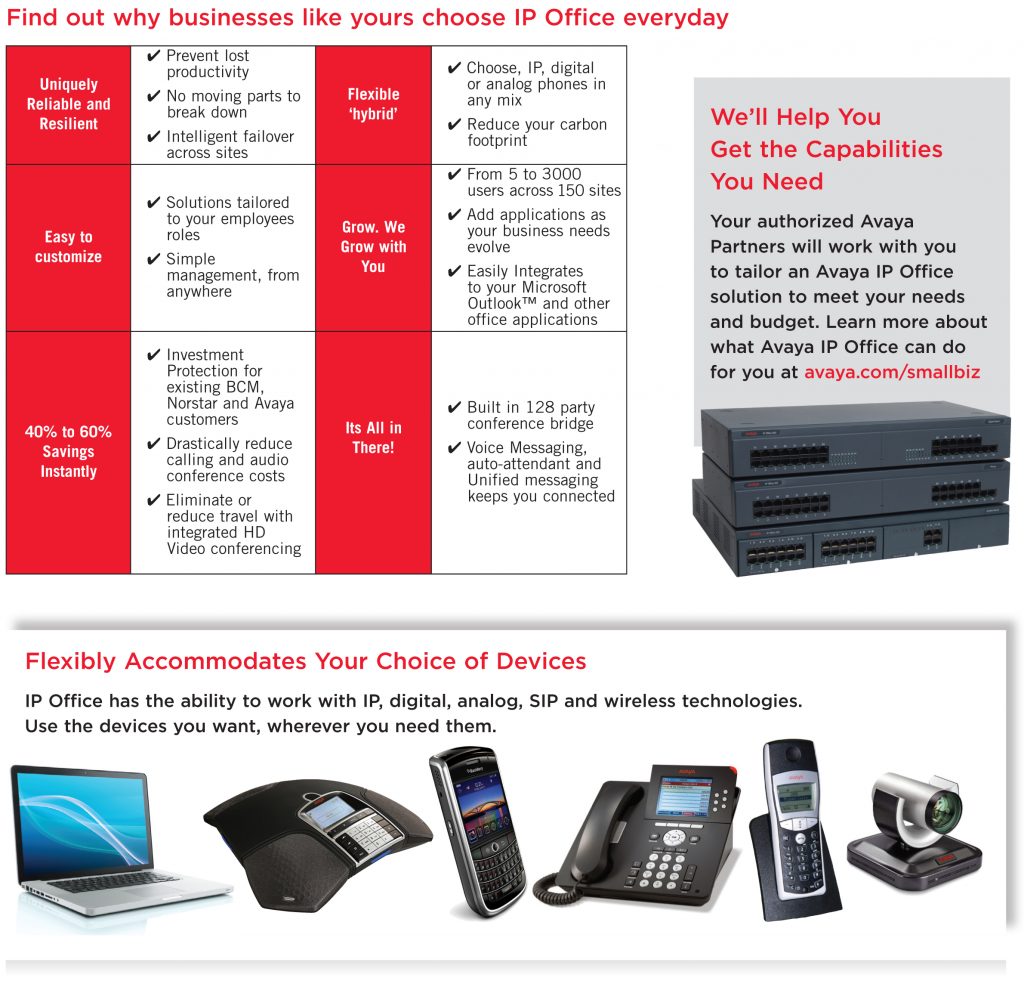 [/vc_column_text][/vc_column][/vc_row]