Avaya is a recognized innovator leading business communications for the digital age. Avaya delivers smart global solutions and technologies for customer and team engagement, unified communications and collaboration, contact center and customer experience management, and networking. Avaya provides related services to large enterprises, midmarket companies, small businesses, and government organizations around the world.

Avaya Solutions bring people together with the right information at the right time in the right context, helping to enable a higher level of engagement among customers, teams, employees and partners to improve efficiency and quickly address critical business challenges. Designed to be highly scalable, reliable, secure and flexible, these solutions help reduce costs and simplify management while providing a platform for next-generation engagement and collaboration. They are available in a variety of deployment models including public, hybrid and private cloud as well as on a customer's premises. All are supported by Avaya's portfolio of professional and support services.
Avaya is used by:
95% of all Fortune 500 companies
2,750+ hotel sites
450K+ contact center agent positions
8 of the top 10 insurance companies
9 of the top 10 largest banks
The world's top 10 airlines
4,000+ healthcare institutions
5,000+ educational institutions
Government agencies in 42 countries
Over half a million small and midsize companies
Avaya is number one in:
Worldwide Contact Center
Worldwide Unified Messaging
SME Telephony
Worldwide Voice Maintenance/Voice Support Services
Advanced VoIP Solution Overview
IP Office is an integrated, modular communications solution that scales up to 3000 extensions and 150 sites in a multisite network with resiliency.
IP Office provides a hybrid PBX with both Time Division Multiplexing (TDM) and IP telephony with trunk support, used in either mode or both concurrently.
IP Office has data capabilities built-in, providing IP routing, switching and firewall protection, between LAN and WAN.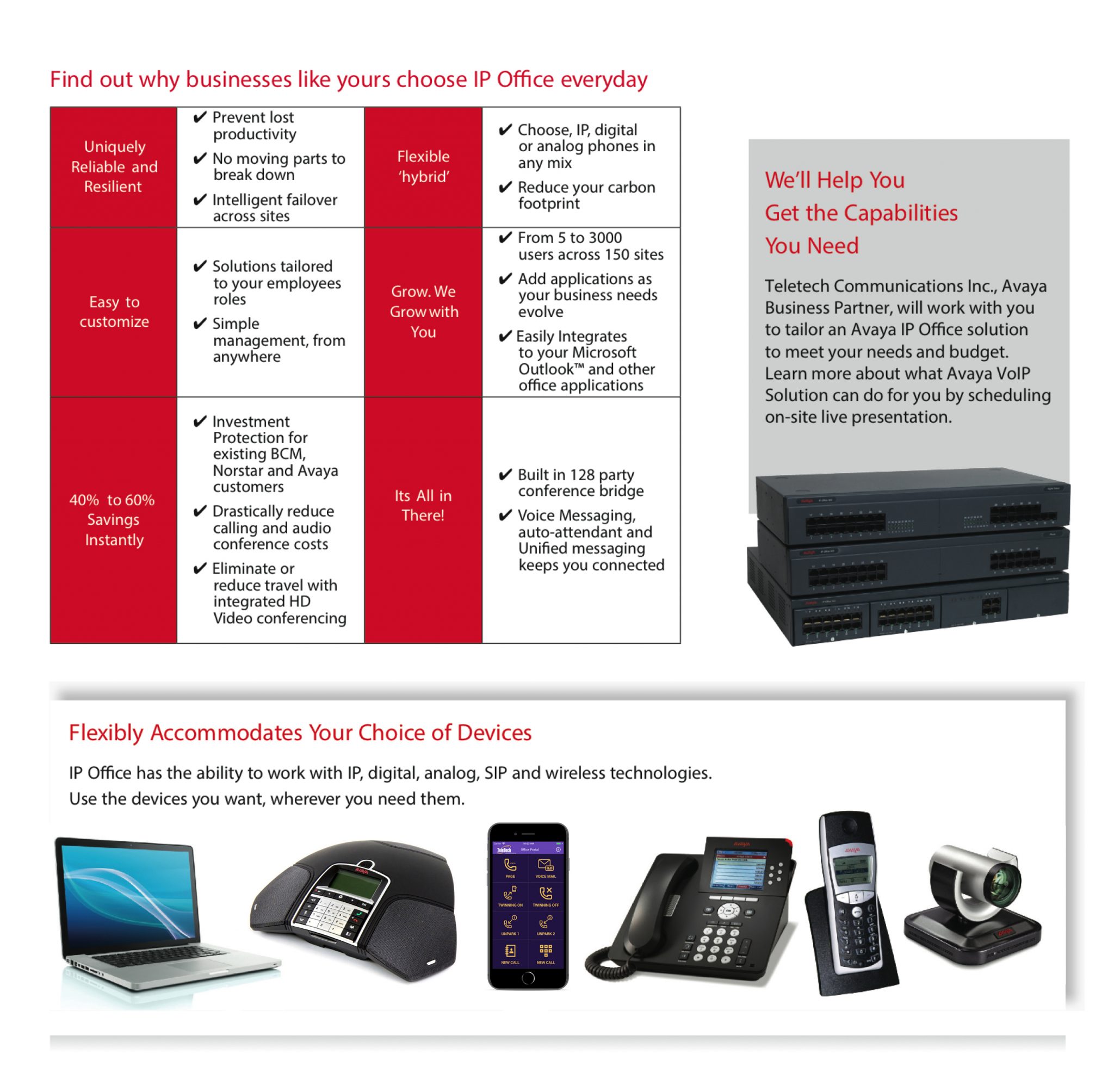 [/vc_column_text][/vc_column][/vc_row]
Key Features
Intelligent Incoming Call Routing
IP Office supports intelligent call routing capable of making routing decisions based on a number of criteria:
Call presentation digits from the service provider such as company main number or DID.
Calling telephone number or Caller ID (this could even be part of the number received such as an area code).
Time of the day and day of the week criteria, as well as calendar based routing.
Where multiple call routes are set up to the same destination, a priority level can be associated with the call. This priority level is used to determine a call's position in the queue.
It is possible to look for multiple criteria so, for instance, a DID call to a sales group could be handled differently depending on which part of the country the call is originating from.
An optional tag can be added to call on the Incoming Call Route, which can be displayed on the alerting telephone (call for Honda, call for Toyota etc.).
Incoming calls could be routed to the following destinations:
Individual extension
Group/Department
ACD group with queue and announcements
Mailbox of the individual user or mailbox of the hunt group
Multi-Level Auto Attendant with the following options:

Direct dial extension or group
Dial by Name
Park and Page
Single digit access to dial extension, group, or other feature
Voicemail to Email
Every user of the IP Office has a voicemail with Voicemail To Email feature enabled. In our solution Voicemail to Email has three options in terms of how it works:
Copy Voicemail to email: The user receives an email with the voicemail attachment. The original voicemail remains on the server
Forward Voicemail to email: an email is sent with the voicemail as attachment, and the original voicemail is deleted from the server
Email Alert: If this mode is selected, each time a new voicemail message is received, a simple email message is sent to the email address. This email contains details of the voicemail message but no copy of the voicemail message is attached
SIP Trunks
A growing number of service providers now offer PSTN access to small and medium businesses via public SIP trunk connections, either to extend their reach beyond their typical copper based network coverage areas, or so that multiple services (voice and internet access) can be bundled into a single network connection.
Although detailed public SIP trunk service offerings vary depending on the exact nature of the offer from the specific service provider, SIP trunks can potentially provide several advantages compared to traditional analog or digital trunks.
These advantages include:
Cost savings resulting from reduced long distance charges, more efficient allocation of trunks, and operational savings associated with managing a consolidated network
Simplified dialing plans and number portability
Geographic transparency for local accessibility creating a virtual presence for incoming calls
Trunk diversity and redundancy
Multi-media ready to roll out future SIP enabled applications
Fewer hardware interfaces to purchase and manage, reducing cost and complexity
Faster and easier provisioning 
Mobile Twinning
Mobile Twinning, enabled feature, gives the ability to use a mobile as an extension of your office phone. This allows users to offer a one number approach while also controlling their accessibility, letting users be more mobile whether in or out of the office. Mobile twinning can be used for mobiles or any other external number (e.g. home phone/home-workers), and requires no additional Hardware. In practical terms, the 'one number' approach adopted and promoted within IP Office Solution means that companies don't become dependent on the mobile numbers of their employees. For example, if a salesman leaves his/her position, the company will not lose business contacts because the call still goes to the company phone number rather than the employee's mobile number.  Can be activated manually or automatically based on time of day profile.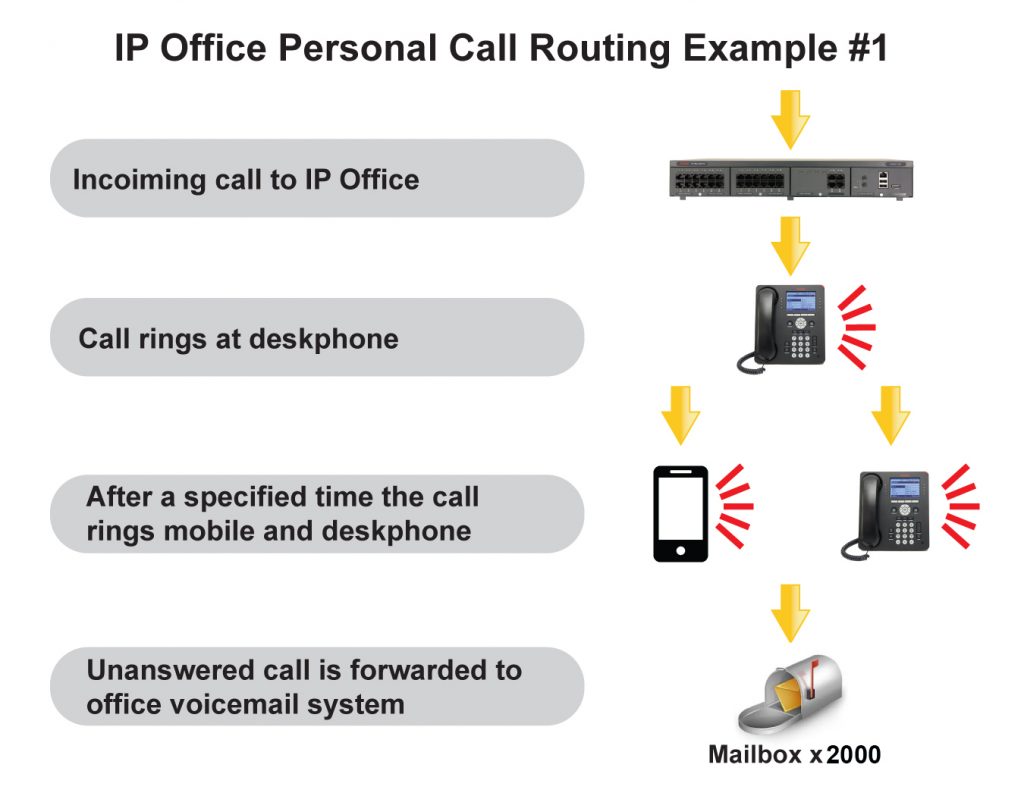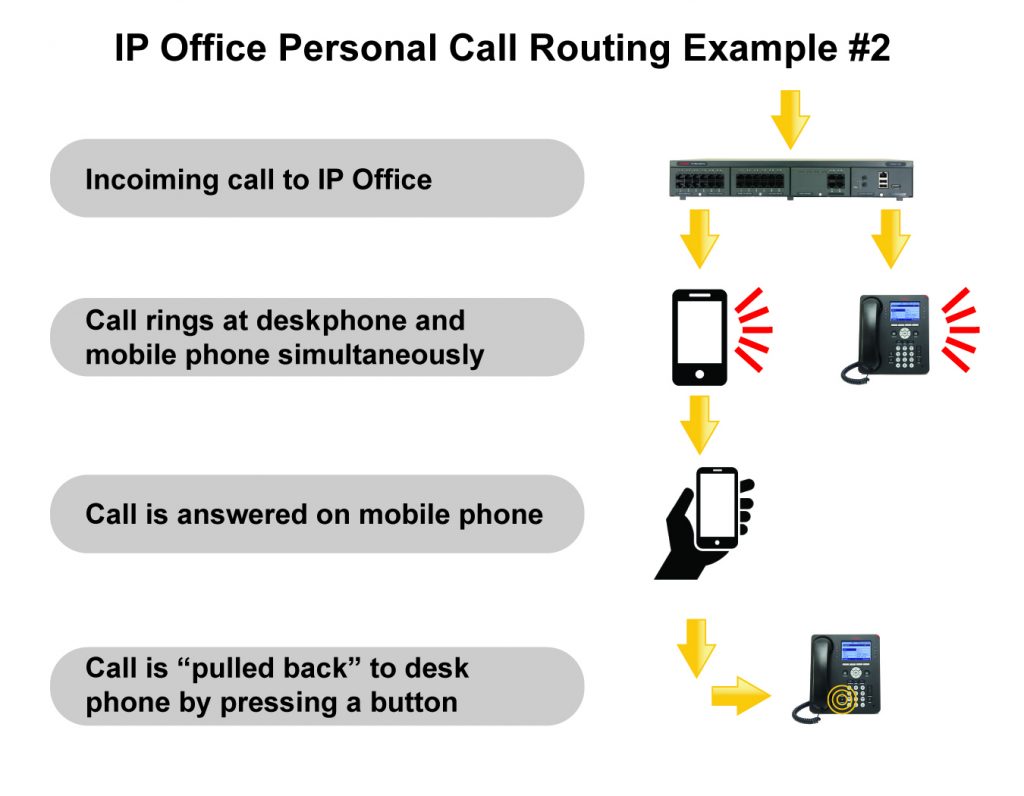 Mobile Phone Application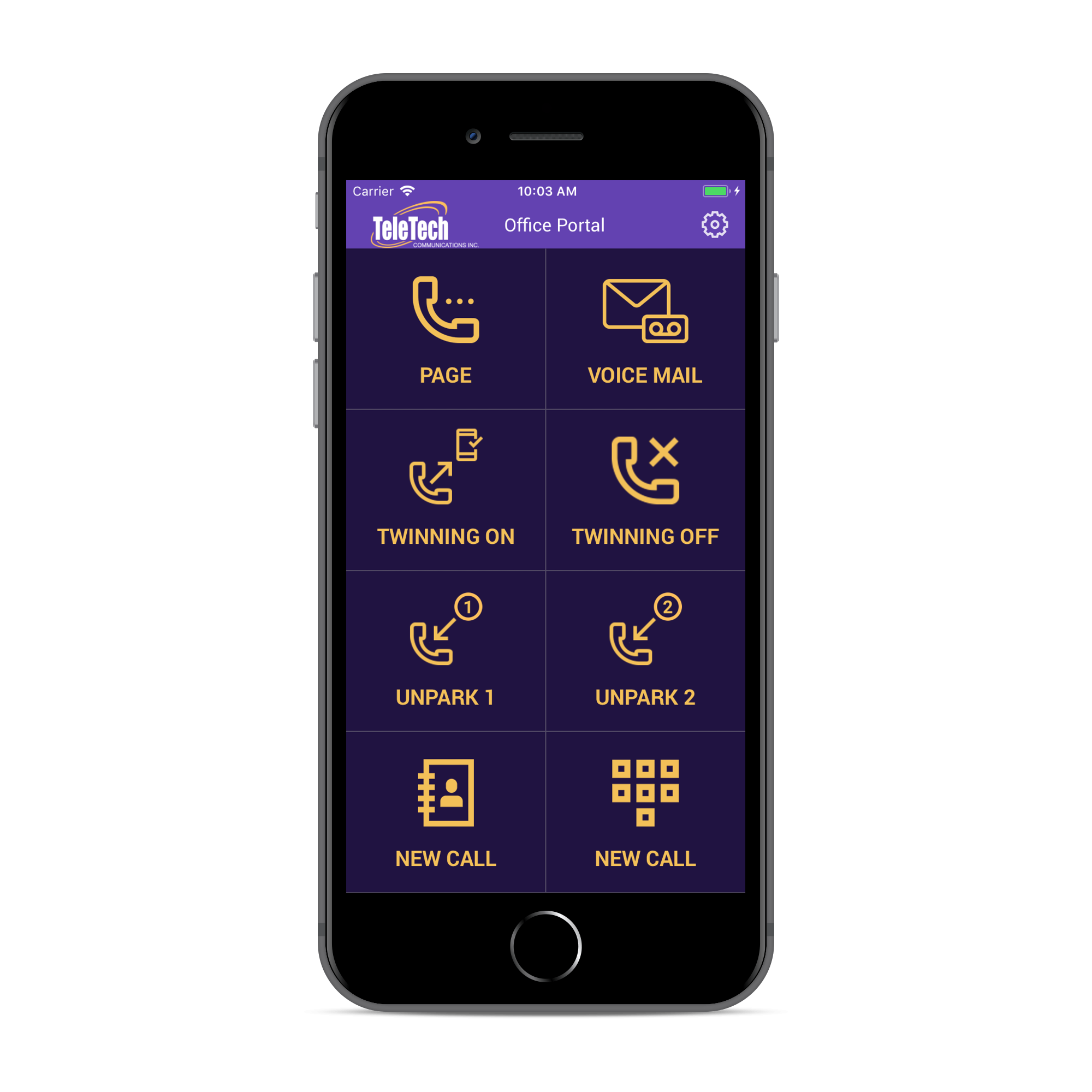 Through our Mobile App users can convert an Apple iPhone or Android smartphone into an extension of the office phone system, allowing them to be contactable from any location. Users of the smartphones have the ability to access system features such as direct dial internal extensions, transfer the calls, use system dial tone to dial out, and one touch dialing options for voicemail, office paging, activate/deactivate mobile twinning, etc.
IP Phones
Avaya 9640C  IP Deskphone
Features an intuitive user interface which help to make users proficient and confident in performing common telephone tasks such as setting up a conference call or completing a transfer. With brilliant audio quality, it's much easier to hear and understand other people which speeds business while reducing fatigue and stress.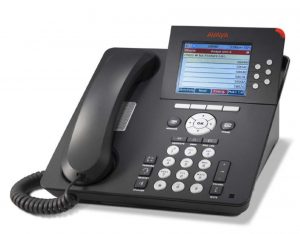 The 9640C telephone features a very stylish professional design, including support for customized display screen saver images and custom faceplates with company logos:
3.8" high resolution color, backlit display.
24 self-labeling programmable call appearance/feature buttons
4 softkeys, 4 navigation buttons
Built-in full duplex speakerphone
Dual message waiting indicators
Volume, menu, message, speaker, headset, forward, contacts, and call log buttons
Built-in headset interface
Built-in two port Ethernet switch for connection to LAN and collocated PC
Supports HD wideband audio codec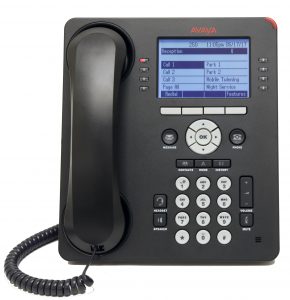 Avaya 9608 IP phone enables businesses to deliver full-featured, durable, highly reliable communications solutions that meet the different needs of many users. The Phone has a smart design and delivers crystal-clear sound. The features are intuitive and easy-to-use leading to increased staff productivity and streamlined communications that can help a company gain a strategic competitive advantage.
8 line X 32 character large back-lit display
24 programmable feature buttons on 3 levels, each with dual red-green LEDs to display status
Fixed feature keys include speaker, headset, mute, volume, menu, phone, history, contacts, voicemail
Context-sensitive interface, 4-way navigation cluster and 4 softkeys
Supports up to 3 BM12 button modules
Full duplex speakerphone
Built-in two port Gigabit (10/100/1000 Mbps) switch for connection to LAN and collocated PC
Integrated headset jack
Dual position stand, wall-mountable
Soft Console Portal
Receptionists Soft Console
Receptionists can handle dozens, even hundreds of calls daily, so it's easy to see how important it is to deploy a phone application that allows for efficient call handling. Receptionist offers a visual display of incoming calls and call status throughout the business on an easy-to-use PC interface. With visual access to everyone's phone status – who's busy, on the phone, away from their desk – receptionists can route calls quickly and accurately with a mouse click.
Receptionist is a powerful application that allows a single operator to manage calls for single site offices and even multiple locations to ensure prompt and professional handling of all calls
Fast, accurate call handling – With its intuitive PC interface Receptionist allows for convenient click-and-drag call handling that helps improve the efficiency and effectiveness of the operator, even with large call volumes.
Visual call status – Receptions can see the status and availability of all associates on the network – who's on the phone, away from their desk, not to be disturbed, etc. – helping with speed and accuracy of call routing.
Centralized call management – With Receptionist, a single operator can handle calls for multiple offices – transferring calls between locations, adding people to conferences, managing voicemail messages for associates. The result: streamlined operations, consistency of service and cost savings.
Call handling for multiple businesses – When an operator manages calls for multiple businesses (for example, in a shared office environment), Receptionist enables the operator to quickly and accurately identify callers, greet them appropriately, and route calls to the right business.
Sharing the receptionist resource reduces costs.
Provide professional service to callers – Easy-to-use interface means receptionists can see the status of users on the network to quickly and accurately route calls to the right people.
Self-Administration Web Portal
The IP Office administrator may give select users the ability to change some of the settings themselves.
If enabled the users can access the Web Administration Portal to manage their personal configuration parameters:
Profile
Voicemail
Do Not Disturb and DND Exception List
Mobility
Forwarding
Personal Directory
Button Programming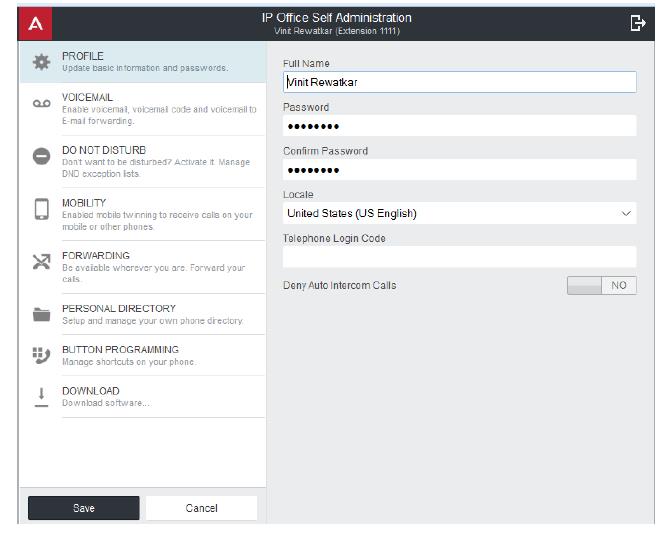 Other Features
Hot Desking
Hot desking allows a number of users non-exclusive use of the same Telephone. Users log with their own identity(Extension and Password) so they can receive calls and can access their voicemail and other
Facilities on any Telephone. For example, sales personnel who visit the office infrequently can be provided with telephony and voicemail services without being permanently assigned a physical extension. When
finished, they simply log out to make the extension available to others or if users log in at another
phone, they are automatically logged out of the original extension.
Directory
The IP Office Directory is a list of up to 2000 numbers and associated names stored centrally in the system. A directory entry can be used to label an incoming call on a caller display telephone or on PC application. The directory also gives a system wide list of frequently used numbers for speed dialing with Dial by Name option. In addition to central directory, each user can store up to 100 contacts in his Personal Directory.
Call History
The IP Office phones and applications keep a record of calls made and received, including unanswered calls. Entries in the call history can be used for return calls, sorted and added to local directory or speed dials.
Conference
The IP Office has 128 party conference capacity, with up to 64 parties on a single call. It is extremely easy to set up and manage the conference call. The originator of the conference can list details, add, mute or drop selectively participants while conference is in progress. Receptionist application allows creation of the Conference Room with automatic dial to users.
Forwarding
This is the ability to forward a user's calls to another extension or external number such as Mobile Phone. Calls can be forwarded in number of ways and if the call is not answered at the forward destination it will go to the user's voicemail. There are three separate forward destinations:
Forward on Busy / No Answer
Forward Unconditional
Follow Me To / Here
Paging
The IP Office handles paging with ease. You can create as many paging zones as you like. Paging zones can consist of desk phones as well as external paging horns. Paging can be accessed with the use of codes, buttons or a combination of both.
Call Park
As an alternative to placing a call on hold, a call can be parked on the system to be picked by another user. The call park facility is available through the user's telephone or the softconsole. Calls are parked against a park slot number so the person the call is for can go to any phone and collect the call by dialing the park slot number.
Music On Hold
The IP Office supports up to 4 sources of music on hold. One system source may be external,
internal (WAV) or tone, and up to 3 additional internal (WAV) sources. The alternate sources for music on hold are selectable for use by Incoming Call Routes or Hunt Groups.
Do Not Disturb
This is the ability to temporarily stop incoming calls ringing at a user's telephone. It will prevent the user from receiving hunt group calls and give direct callers either voicemail (if enabled) or busy signal. It is possible to create DND Exception List to have some calls bypass the DND setting and ring the phone.
Coaching intrusion
Designated users can join an existing conversation on internal or external calls. This features also
allows a user to interrupt a call without the caller hearing the conversation.
Administrators and supervisors designate users with the Can Intrude setting. Users can join calls on
any extension on the system, however, administrators can also designate users with the Cannot be
Intruded setting, which prevents others from intruding on their calls.
Silent Intrusion or Whisper Page can be effective in a scenario where a user intrudes into a call to
whisper that a very important customer is waiting.
The user hears the whisper while talking to the caller but the caller will not be able to hear the whisper.
Used in call center scenarios and with other applications between employees. Supports the
interruption or inclusion of a supervisor on a live call to talk to an agent without the far-end caller
listening to the conversation. This is useful when the agent needs coaching support/training or when
the supervisor needs to intrude to give instructions to an agent. The caller may still talk to the agent,
but the caller will not hear what the supervisor is saying. The agent will be able to hear both the
caller and the supervisor.
Remote Worker
Remote Worker allows the connection of remote 9600 Series IP phones with the H.323 FW which
resides behind a NAT router to IP Office. The configuration does not require any VPN concentrator
equipment with IP Office.
With the Remote Worker feature enabled, remote 9600 H.323 IP Phones can connect to IP Office
even if it is located behind a NAT router. The sets are authenticated on IP Office in the same way as
sets in the private network. The IP Office determines that a set is located outside the private network
and relays the VoIP RTP traffic to ensure it transverses the NAT router.
https://teletechnet.com/wp-content/uploads/2018/05/AVS.png
533
800
Ilona Matyka
https://teletechnet.com/wp-content/uploads/2018/03/logo_dark_70.png
Ilona Matyka
2017-11-15 23:41:16
2018-05-10 21:13:16
Advanced VolP